GOOGLE CARDBOARD MARKETING - HERE IS HOW!
Is Google Cardboard, or virtual reality, only for nerds? Maybe in the perception of the media, but the reality is quite different. When Google took stock at the I/O in May 2015, after one year, even the project manager was surprised. 1 million Cardboards were in circulation at the time. In January 2016, it was already 5+ million. The unofficial numbers were an estimated 8 million in January 2016. Until today (July 2016) the 16+ million mark has certainly been surpassed.

Google Cardboard is a mass medium and, above all, intuitive.
For comparison: Samsung Gear probably amounts to a maximum of 2 million and Oculus Rift & HTC VIVE to 200,000 devices. Google Cardboard is a mass medium. Therefore, this is the first central point: the focus for effective virtual reality marketing should be on Google Cardboard and not on Oculus, HTC VIVE & Co.
Why is Google Cardboard so successful? It's intuitive. Insert your smartphone, look through it, done. Something similar has existed before: Nintendo's Wii reached the wide masses with its intuitive principle and wrote business history. Microsoft and Sony still dream of that today. Central point: Google Cardboard is intuitive and, therefore, suitable for every age and user group.
However, the most relevant thing for companies & brands is that Google Cardboard is inexpensive, can be produced quickly and, above all, that it can be printed and personalized individually (neo-German Branded Google Cardboard). Not for nothing, "virtual reality agencies" (or ones that call themselves that) are popping up everywhere. But if you take a closer look at the implementations & apps, it gets gloomy: boring 360° videos and senseless apps that do not even work properly. Rather a flu-like infection than viral. Unfortunately, these value-free "fun" apps & videos are rather the norm than an exception.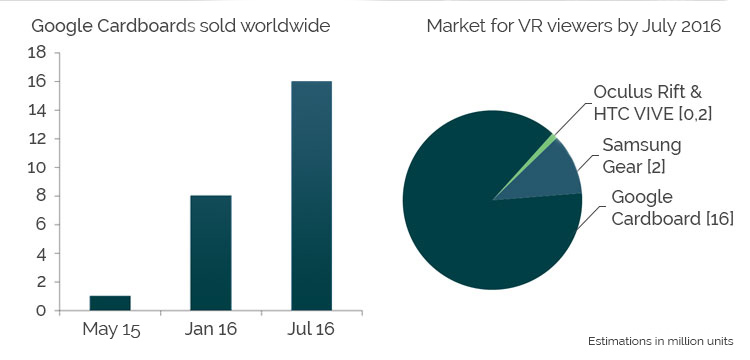 The core issue seems to be the fact that marketing agencies & directors actually do not know what they should or can do with the new medium virtual reality. So,
Marketing agencies do not know what to do with the new medium virtual reality.
for action's sake (since everyone wants to be trendy) something is aimlessly put together like: "Hey, we bought 6 GoPro cameras and will make virtual reality now." So, after all, can we learn from gamers and game developers who are more familiar with the new medium?
Even if gamers develop, not much that makes sense comes out of it. That way, it feels like 50% of the virtual reality apps are rollercoasters. Motion sickness in all shapes and colors! Yes, there is also already cat virtual reality (Catlateral Damage).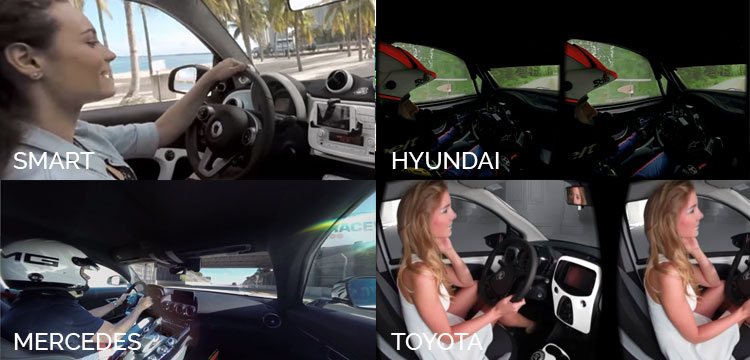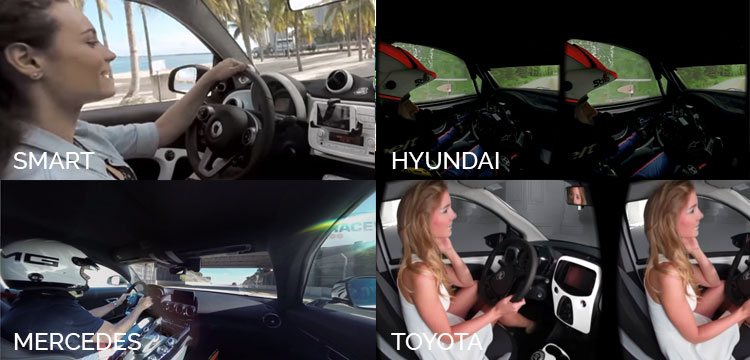 360° video from passenger seat: innovation is quite different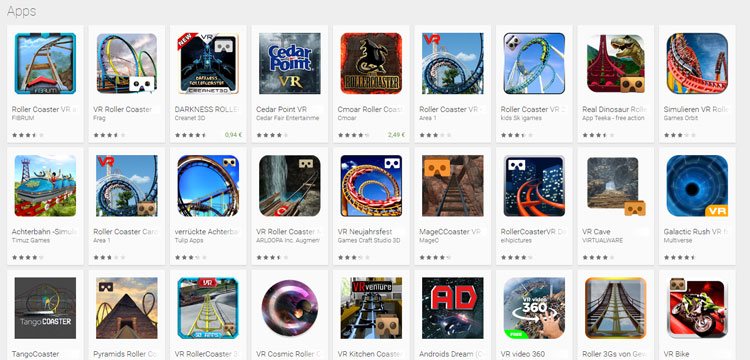 A quick look into the PlayStore is enough to conclude that most apps are just for "fun"
So, what can be done? Do you play the conservative German: "In the good old days, things used to be so much better"? Become paralyzed by shock and bury virtual reality? No. People need to change the way they think:
Virtual reality must be understood and experienced: this means to try it out, have fun and experiment with it. It is impossible to create virtual reality concepts when there is no HTC Vive at reach. This also, and especially, goes for a later implementation of concepts for Google Cardboard. You can find a list with games at the bottom.
Gather everyone at a table: the marketing agency, the digital agency, the customer and (!) the game designers. Game designers may not be programmers, but they are experts for storytelling and interactive elements with an eye for the target group, because:
It is important to create an added value for the user: what is the point of me looking at a car ride from the passenger's point of view? There is no point! Always ask yourself: "Is it so awesome that I want to spend more than 5 minutes doing it? Do I want to use/play the app or the game 3 times or more?" You can find examples & inspiration at the bottom.
Google Cardboard is an intuitive mass medium for everyone and should definitely be in the spotlight. However, real added value has to be created for the users. For this, everyone involved must have experienced and understood what real virtual reality means. Dare to try it out yourselves!
Google Cardboard Use Cases
Games & apps for HTC VIVE 
CARDBOARD USE CASES OF OUR CUSTOMERS